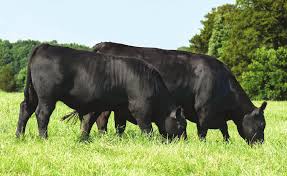 The Reeves Angus Farm is located in Surgoinsville, Tennessee (U.S.A.). Surgoinsville is a small community of approximately 3,000 residents, many of whom farm in the valleys and plateaus that lie between the big hills leading to the Smoky Mountains.
Billy J. Reeves, a native of Surgoinsville, is the owner of the two family-operated farms that focus their attention on the health and well-being of the herds of registered Angus cattle.
Carters Valley Farm
The original Reeves Angus Farm is nestled in Carters Valley on land that has been in the Amis and Reeves families for five generations. This farm is located between the communities of Surgoinsville and Church Hill and is approximately 20 miles southwest of Kingsport, one of the famous "Tri-Cities" of Tennessee (Kingsport, Bristol, and Johnson City).
Reeves Bunker Hill Farm
A second farm is located on the southwest side of Surgoinsville just off Highway 11W in the Big Creek Water Shed area. Some of this land has been in the Reeves family for four generations. The "Bunker Hill" in the name originates from the Civil War activities that occurred in the area.
Our Mission Statement
To produce breeding stock cattle excelling in growth and maternal traits at a reasonable cost to our customers.
Our Vision
To produce registered Angus cattle with superior genetics using approved vaccination and health programs and raised mostly with naturally grazed forages.